So, this past week has seen it's fair share of movie news, lets take a look at some of it... Allons-y!
Firstly, lets take a look at some news revolving around the possible destruction of a piece of my childhood... the Teenage Mutant Ninja Turtles movie. A couple of days ago, the
TMNT_Fansite
posted an image to their Twitter feed of Shredder in the upcoming movie.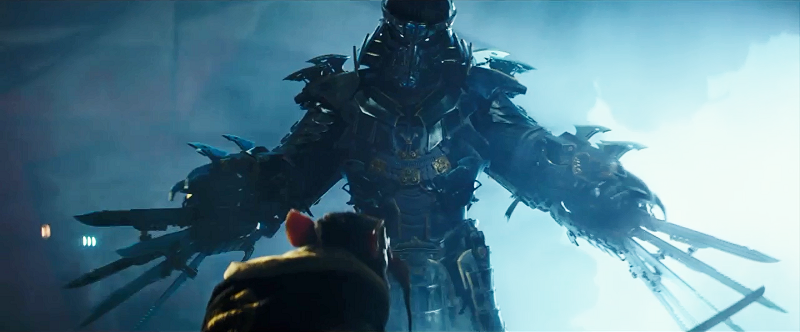 Shredder, from the TMNT_Fansite Twitter page...
I don't know why but, I have never found Shredder to be visually intimidating. Even at such a young age when watching the original cartoon, I never thought he looked particularly scary...
Shredder, from the 80's cartoons...
When the original films came out, the film makers seemed to stick to a similar principle for Shredders outfit, again not scary...
Shredder, in the original film...
Now, this new outfit, the one you see at the top of this section... sorry words eluded me for a moment having seen it. It looks ridiculous! Shredder is a master of Ninjutsu, how the hell is he supposed to do anything other than chop vegetables in that damned suit? There's just so much wrong with it that my brain can't process quick enough to get it down in writing, it's physically making my head hurt... If that image is anything to go by, Bay's movies is not going to be a reimagening of the Teenage Mutant Ninja Turtles, it's going to be it's murder.
Another piece of news that caught my eye this week is regarding another of Bay's films (possibly), I'm sorry! Paramount announced recently that they are scheduled to release Transformers 5 in 2016. Now, Bay has said countless times that he was doing no more Transformers films, and here we are, at number 4. The timing of this announcement would suggest that Bay is probably onboard to do another outing with the Autobots and Decepticons as, to get their usual summer release for 2016 shooting would have to start quite soon and hunting out a director can be a very lengthy process.
The last piece of news for now, doesn't involve Bay thankfully, although, it's not really good news. Reports are saying that, Harrison Ford's injury that he sustained from the door of the Millenium Falcon, may keep him away from filming for around 8 weeks. There are conflicting reports however that state he may be able to continue filming, as long as they film his scenes that are from his waist up. All I know is, I hope he makes a full and speedy recovery.
Have you heard any geeky or movie news, leave me a comment below.
Thanks for stopping by, I do hope you enjoyed yourself.